Hereditary
*shakes dust off fingers/coughs/removes cobwebs from keyboard*
WELCOME, my loyal Deadites, to another long-awaited installment of the Unholy Cathedral. It's been quite a while, but I'm back with a fresh new movie in theaters NOW. If I'm being completely honest, I've been kind of cheating on you. I may have watched some horror movies (Winchester, Open House, The Ritual) and not written about them. If anyone has any questions about them, feel free to hit me up. But (Spoiler Alert) none of them really blew me away. In any case, here's how we got here. Last week I was looking at Rotten Tomatoes, and I saw that Hereditary was getting crazy good reviews, so I figured I had to check this one out. The previews were a little ambiguous, but it looked like it had potential. So let's dive into the grave for a spooky review.
Hereditary is the story of a family overcome with grief, after the recent loss of the matriarch in the family. The mother, Annie, does her best to keep her composure, but her daughter seems to be struggling with the loss. Soon, Annie seeks grief counseling, but when another tragedy strikes, things begin spiraling out of control. And as she struggles to cope with her compounding losses, she also begins to find some hidden truths about her family… some of them darker than others. Jeepers.
Time to renew that Ancestry.com account, kiddos. We're going in for A Closer Look.
Villain: This is tough, mostly because I don't want to spoil it. So, let's go with… an evil spirit. 🙂
How Do I Stop It?: Well, the odds (and other things) are against you here, without a doubt. But best advice? Give your mom a call and see what she's up to. That's good general advice, in addition to possibly stopping evil spirits. Just fyi.
Lessons Learned: Let this always be a lesson. Forever. If you come across a strange incantation that deals with talking to dead folks… DON'T FREAKIN SAY IT. KILL IT WITH FIRE.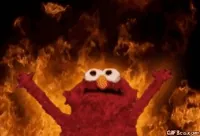 Who Do I Watch With?: This one takes its time getting going, but once it does, it's pretty intense. Best to leave the kids at home, and either watch this one alone, or with a brave friend.
Movie Trivia: A trailer for the film was accidentally shown at a screening of Peter Rabbit (2018) in Australia. HA. Those kids had to be #shittingbrix
Also, during a scene at school, the words "Escaping Fate" are on the blackboard, which is a reference to John Carpenter's Halloween. As it happens, Hereditary was released on the same day as the trailer for the new Halloween movie. Spooky.
Rating the Flick
Villain: 5/10. I think it's hard to rate this villain high, because for quite some time, we don't really know who the villain is. But don't tread too lightly.. this baddie is not to be toyed with.
Scare Factor: 8/10. There's some spooky stuff going on here. As I said, it takes a while to build up. But this flick gets progressively more intense, and really ramps up in the last half hour or so. This is a dark, pretty scary movie.
Gore Rating: Very Bloody Machete! (4/5)
It's about time we had some gore on here! And this time around, we see some pretty sick stuff. It's not an overload, but there's a few stand-out scenes that really drive up the gore factor. Let that be your warning.
Overall Rating: 4/5 Pigeon Heads
Hereditary delivered the goods here. I would say about 45 minutes into the movie, I wasn't really sure where this was going. But they turned things around quickly, and this film kind of takes you on a mind trip. There's a lot to think about, even after it's over, but getting to the end is a wild, scary journey. There's a lot of good foreshadowing in the movie, as well as a pretty creepy score to accompany the visuals. So if you're looking for some summertime scares, you might want to add Hereditary to your list.
That'll wrap up this review, but in case you haven't seen the new Halloween trailer, check it out below! Personally I'm very excited for this.
I'll leave you with that, but hopefully I'll be back with some more Unholy scares before too long.
Until next time, drive safe.
-Dvo